Phoenix is the capital city of Arizona state in USA. It is the most populous city in the state and fifth most populous city in whole country. With over 1.5 million people, it is one of most eyed region for data center companies as well. Phoenix is warm and sunny most part of the year making it ideal for premium spa-resorts and gulf courses. Arizona, which is one of the highly preferred state for data center companies, host most of its facilities and infrastructures in Phoenix.
Data Centers in Phoenix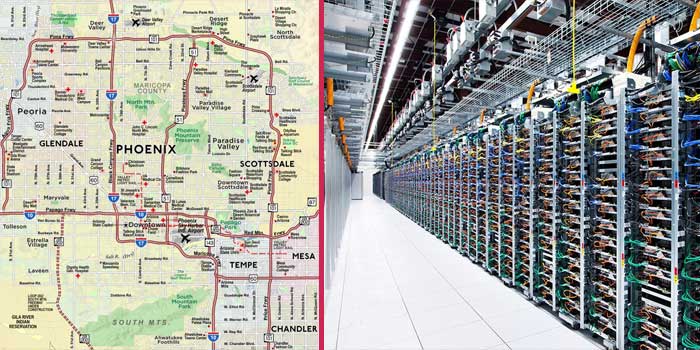 We have listed here some data center companies located in Phoenix city of Arizona state. You can contact these Phoenix data center companies for your hosting and data center needs (including colocation, cloud computing, data services, dedicated servers, VPS or other web hosting solutions).
Flexential
There is one data center location of Flexential company in Phoenix which lies in Deer Valley. This facility here offers secure colocation, cloud, compliance and disaster recovery for complete hybrid IT solutions. Flexential data center in Phoenix offers 109,000+ square foot space and power density of 180+watts per square foot.
Address: 1850 W Deer Valley Rd, Phoenix, AZ 85027, United States
Phone: +1 877-448-9378
INAP
INAP has three data centers in Phoenix including one flagship data center facilities of theirs. Also, they have additional two point of presence in the city. They have total space of over 240,000 square feet out of which 58,000 square feet is raised floor with strong connectivity to Los Angeles and Dallas. They have 2N power redundancy and N+1 cooling redundant facility.
Address 1: 2500 West Frye Road (Flagship data center)
Address 2: 2121 South Price Road
Address 3: 615 N. 48th Street
Phone: +1 877-843-7627
Iron Mountain
There are two data center facilities of Iron Mountain in Phoenix which includes AZP-1 and AZP-2. To those who don't know, Iron Mountain is one of the reliable and popular US based company. They do have facilities outside USA as well in 4 different countries including UK, Singapore, Netherlands and Germany.
AZP-1 address: 615 N. 48th St, Phoenix, AZ
AZP-2 address: 4802 E. Van Buren St, Phoenix, AZ
Phone: +1-833-476-2656
QTS
There are two of the data centers of QTS in Phoenix which includes:
Phoenix Data Center
Spread across 84 total acres of its own land, QTS Phoenix Data Center is designed for large scale deployments at no time.  It can help your need for exponential growth. Facility is one of the efficient and flexible data center in the Arizona, with planned power capacity of 130MW.
Address: 1100 – 1600 40th Street Phoenix, Arizona 85008
Phoenix-Van Buren Data Center
Lashed with high security, this facility at downtown location provides flexible colocation options. Total space of 288,000 sq. ft. and utility power capacity of 32MW makes it one of the eligible data center for your colocation needs in the region.
Address: 120 East Van Buren Street Phoenix, Arizona 85004
Add your Data Center in Phoenix
Do you own or represent a data center in Phoenix city of Arizona state? If you want to list your company here, you can feel free to write to us. You can send us brief introduction of your company and data center facilities that you provide in Phoenix including colocation, cloud, storage, point of presence along with location and contact details.
Disclaimer: Though we have done our best to collect the right information, we don't guarantee the accuracy of information provided here including data centers in Phoenix with their locations or map. Kindly contact respective service providers for detailed or accurate information.