Amazon Web Services (AWS) is a popular cloud data services provided by Amazon company. Replacing the idea of owning a data center or dedicated server, on-demand cloud computing platform such as AWS enabled people to make contingent decision. People are now able to buy the data space as they scale. In fact, customers have the option to scale or de-scale their plan based on seasonality of the demand.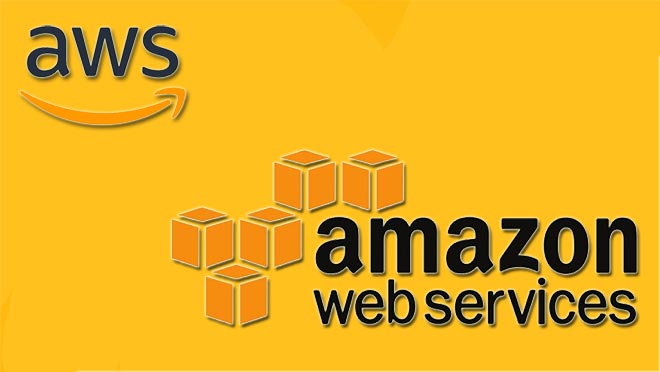 However, to provide platform as such, AWS definitely need their own infrastructure, that too at a very large scale. Though Amazon don't disclose the exact locations of its data centers, it has some vague classification. It gives us fair idea about the location of Amazon AWS data centers and their server.
AWS Data Center Locations
Before listing you the location of Amazon Web Services (AWS) data centers, let's give you some idea about classification system of Amazon. Amazon broadly classifies its data centers location into:
AWS Regions
AWS Availability Zones
Regions are the broader geographic locations such as cities where the Amazon data centers are strategically located to serve the web visitors around those region. Regions are geographically quite far from each other.
Whereas, availability zone are clusters of data center(s), locally concentrated in a particular area within a particular region, well interconnected to each other with same source of power connection and network. Such availability zone can have one or more data center within. However, each availability zones are quite independent to each other though there can be more than one availability zone in same region.
AWS Data Center Regions
AWS infrastructure spans 77 Availability Zones within 24 geographic regions around the world. It also has 216 points of presence including 205 edge locations and 11 regional edge caches. Besides, nine more Availability Zones and three more AWS Regions in Indonesia, Japan, and Spain are under planning or construction. Major AWS data center regions and their locations in various continents are mentioned below:
Asia Pacific
There are 9 AWS Regions in the Asia Pacific continent which includes:
Beijing: 2 Availability Zones
Hong Kong: 3 Availability Zones
Mumbai: 3 Availability Zones
Ningxia: 3 Availability Zones
Osaka: 1 Availability Zones
Seoul: 4 Availability Zones
Singapore: 3 Availability Zones
Sydney: 3 Availability Zones
Tokyo: 4 Availability Zones
Europe/Middle East/Africa
There are total of 8 AWS Regions in Europe, Middle East and Africa, which includes:
Bahrain: 3 Availability Zones
Cape Town: 3 Availability Zones
Frankfurt: 3 Availability Zones
Ireland: 3 Availability Zones
London: 3 Availability Zones
Milan: 3 Availability Zones
Paris: 3 Availability Zones
Stockholm: 3 Availability Zones
North America
There are total of 6 AWS Regions in North America including 2 cloud data center regions separated for US government purpose. These include:
Central Canada: 3 Availability Zones
GovCloud (US-East): 3 Availability Zones
GovCloud (US-West): 3 Availability Zones
North California: 3 Availability Zones
Ohio: 3 Availability Zones
Oregon: 4 Availability Zones
South America
South America host only one AWS Region which is located in:
São Paulo: 3 Availability Zones
You can use any of these data center cloud infrastructure, facilities placed in these regions to setup your own cloud from the location of your choice. Or you can use all of its network to reduce the latency, if your audience are widely spread around the world.
Summary list of AWS data center locations
Here we have brought you the list of location of Amazon AWS data centers based on regions and availability zones arranged in alphabetical order of respective countries.
AWS Data Center Locations

| AWS Data Center Regions (Availability Zones) | Locations / Countries |
| --- | --- |
| Sydney (3) | Australia |
| Bahrain (3) | Bahrain |
| São Paulo (3) | Brazil |
| Central Canada (3) | Canada |
| Beijing (3); Ningxia (3); Hong Kong (3) | China |
| Paris (3) | France |
| Frankfurt (3) | Germany |
| Mumbai (3) | India |
| Ireland (3) | Ireland |
| Milan (3) | Italy |
| Osaka (1); Tokyo (3) | Japan |
| Singapore (3) | Singapore |
| Cape Town (3) | South Africa |
| Seoul (4) | South Korea |
| Stockholm (3) | Sweden |
| London (3) | UK |
| GovCloud US-East (3); GovCloud US-West (3); North California (3); Ohio (3); Oregon (4) | USA |
AWS Data Center Locations Map
Here we have obtained the map of Amazon Web Services (AWS) Data Center locations in the form of regions as explained above: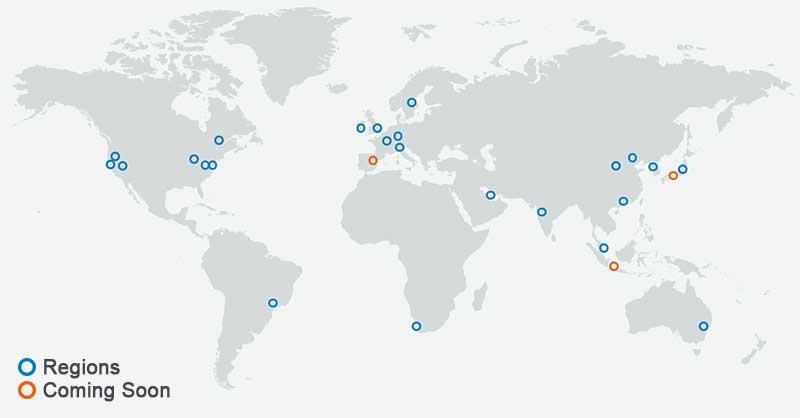 Disclaimer: These information were last updated on August 2020. Though we have done our best to collect the right information, we don't guarantee the accuracy of information provided here including AWS data center locations or map. Kindly contact Amazon for detailed or accurate information on Amazon AWS server locations on its data centers.