Rackspace Technology (shortly known as Rackspace) is a well known American managed cloud/data center company based in Texas with headquarter in San Antonio. However, it has global presence. Company claims itself to be a multi-cloud expert, which it is. Rackspace has more than two decades of experience since its inception in 1998. It became a public company in 2008, but was bought in 2016 by Apollo Global Management LLC and made private again. However, in 2020, company name has been changed to "Rackspace Technology" and it is made public again. Company is now listed and traded in NASDAQ with the symbol of "RXT".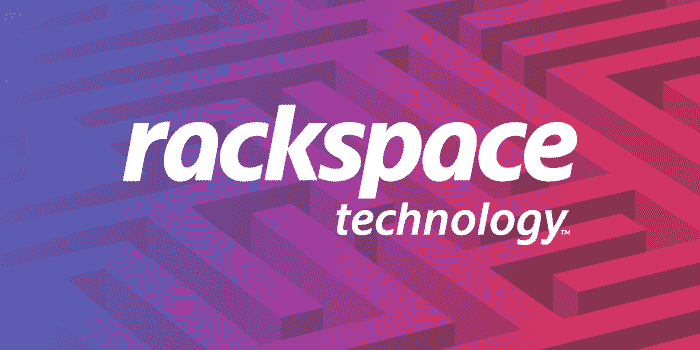 During early days, when there were hundred of hosting companies providing not much than server space to its customers, it was Rackspace which differentiated itself on basis of its customer service. Now, it has global data center infrastructure in major locations across the world. They are also one of the first companies to offer managed cloud. Currently, Rackspace is serving its customers in 120+ countries with the help of its 6000+ staffs.
Some of the services and solutions of Rackspace Technology includes, but not limited to:
Colocation
Managed Cloud (private, public, hybrid)
Managed hosting
Email hosting
Database Management and hosting
Application services (such as CRM, ERP, Java or .net based applications, etc.)
Business Intelligence
Moreover, to add to their credit, they have alongside NASA founded OpenStack and runs the largest OpenStack cloud as well.
Rackspace data center locations
Rackspace data center facility and infrastructure supports your need for global reach, scalability and organizational agility whatever be the location. Be it cloud, colocation or dedicated server, these data centers are capable of what you want.
Data centers of Rackspace are strategically located in most influential financial and technical markets, where high uses of resources are expected. They own nearly around 20 data centers in various regions of Asia, Australia, Europe and America, which are categorically listed below along with map.
# Europe
# Map
Asia Pacific
Australia
Sydney Data Center (SYD2)
China
Hong Kong Data Center (HKG5)
Shanghai Data Center (SHA3)
Singapore
Singapore Data Center (SIN2)
Europe
Germany
Central European Data Centers (FRA1, FRA2)
Netherlands
Central European Data Centers (AMS2)
Russia
Russian Data Center (MOW80)
UK
London Data Centers (LON3, LON5, LON8)
North America
USA
There are six states in USA which host Rackspace data center, which includes California, Illinois, Missouri, New Jersey, Texas and Virginia.
Chicago Area Data Center (ORD1)
Dallas/Fort Worth Area Data Center (DFW3)
Kansas City Data Center (MCI1)
New York/New Jersey Metro Data Centers (NYC1, NYC2)
Silicon Valley Data Center (SJC2)
Washington DC Area Data Centers (IAD3)
South America
Brazil
South American Data Center
Summary List of Rackspace Data Center Locations
Here is the summary list of Rackspace data centers and their locations (state/country) in tabular form. Data information in the table below is arranged in alphabetical order by name of country followed by state and city.
Rackspace Data Center Locations

| Rackspace Data Centers | Locations |
| --- | --- |
| SYD2 | Sydney, Australia |
| South American Data Center | Sao Paulo, Brazil |
| HKG5 | Hong Kong, China |
| SHA3 | Pudong, Shanghai, China |
| FRA1, FRA2 | Frankfurt, Germany |
| AMS2 | Amsterdam, Netherlands |
| MOW80 | Moscow, Russia |
| SIN2 | Queenstown, Singapore |
| LON3 | Slough, Berkshire, England (UK) |
| LON8 | London, England (UK) |
| LON5 | Crawley, West Sussex, England (UK) |
| SJC2 | San Jose, California, USA |
| ORD1 | Elk Grove Village (near Chicago), Illinois, USA |
| MCI1 | Kansas City, Missouri, USA |
| NYC1, NYC2 | Somerset (near New York City), New Jersey, USA |
| DFW3 | Richardson (near Dallas/Fort Worth), Texas, USA |
| IAD3 | Ashburn (near Washington DC), Virginia, USA |
Rackspace Colocation
Rackspace provides its collocation services in various locations. However, not all its data canters are used in colocation  regions. The colocation regions of Rackspace Technology along with their data centers are given below:
Colocations Regions with Data Centers
Below given are the colocation regions of Rackspace Technology as defined by the company:
East Coast Region
This region lies towards eastern coast of USA. Here, Rackspace has total of 6 data centers providing colocation services which are located in Somerset City and Ashburn. These cities are near to each other but falls under New Jersey and Virginia states respectively.
New York City Data Centers – NYC1, NYC2, NYC40, NYC41
Ashburn Data Centers – IAD3, IAD40
Midwestern Region
This region lies in around almost central part of USA. It covers two states namely Illinois and Missouri. Chicago, which is a city in Illinois, host two data center infrastructure of Rackspace for colocation. Whereas, Kansas city in Missouri has one such facility.
Chicago Area Data Centers – ORD1, ORD40
Kansas City Data Center – MCI1
Pacific Northwest Region
This region lies in the northwest corner of USA covering two states: Oregon and Washington. There are two data centers in this region, one in Tukwila suburban city in King County of Washington and another in Hillsboro city in Oregon, which serves Rackspace colocation solutions.
Tukwila Data Center – SEA40
Hillsboro Data Center – PRT40
Silicon Valley Region
This region lies in the well known "Silicon Valley" in California State of USA. Silicon Valley Region has two data center infrastructures that provide Rackspace colocation services. These infrastructure facilities are located in San Fransisco and San Jose cities in the state.
San Francisco Data Center – SFO40
San Jose Data Center – SJC2
South Pacific Region
This region is lies in Australia. It has only one data center which is located in Erskine Park, a suburb in Sydney. In fact, it is the only Rackspace data center facility in Asia or Pacific region, which provides colocation solutions.
Sydney Data Center – SYD2
South Western Region
This region lies near south western part of USA. It too one data center for colocation in Phoenix city, which falls under Arizona State.
Phoenix Data Center – PHX40
Southern Region
This region lies towards south-eart part of USA. The only data center facility for Rackspace colocation in the region is located in Atlanta city of Georgia State. Atlanta is also the capital of the state.
Atlanta Data Centers – ATL40
Texas Region
As name suggest, this region lies in the Texas State of USA. The data center of Rackspace here is called as Dallas/Fort Worth Data center, probably due to its close proximity to Dallas and Fort Worth cities.
Dallas/Fort Worth Data Center – DFW3
United Kingdom Region
This region lies in United Kingdom (UK). However, all of the data center facilities for colocation are concentrated in England. It host two of the Rackspace data centers for the purpose of colocation. This include the facilities in Berkshire and West Sussex of England.
London Data Centers – LON3, LON5
Western Asia Region
This region lies in Russia. Only Rackspace data center in the region is located in Moscow, the capital of Russia. But don't get confused; though most of the land mass of Russia lies in Asia, Moscow in particular lies in Europe.
Moscow Data Center – MOW80
Rackspace RackConnect
RackConnect is a unique hybrid cloud solution provided by Rackspace. It helps to connect your dedicated servers to the managed cloud. Rackconnect gives the flexibility and elasticity of cloud, as well as the enhanced security and performance characteristics of traditional hosting. In essence, this product from Rackspace enables the customer to enjoy the benefit of Hybrid hosting.
The locations where Megaport and Equinix connections for the RackConnect are available is listed below:
Asia Pacific
All of the connections available for RackConnect in Asia Pacific region is that of Megaport.
Megaport connections available in:
Adelaide, Australia
Brisbane, Australia
Canberra, Australia
Melbourne, Australia
Perth, Australia
Sydney, Australia
Auckland, New Zealand
Hamilton, New Zealand
Wellington, New Zealand
Europe
Megaport connection available in:
Sofia, Bulgaria
London, England
Dublin, Ireland
Berlin, Germany
Dusseldorf, Germany
Frankfurt, Germany
Hamburg, Germany
Munich, Germany
Nuremberg, Germany
Amsterdam, Netherlands
Stockholm, Sweden
Equinix connections available in:
London Slough LD5, England
North America
Megaport connections available in:
Toronto, Ontario, Canada
Montreal, Qubec, Canada
Quebec City, Qubec, Canada
Ashburn, Virginia, USA
New York, USA
Newark, New Jersey, USA
Chicago, Illinois, USA
Dallas, Texas, USA
Houston, Texas, USA
Seattle, Washington, USA
Portland, Oregon, USA
Silicon Valley, California, USA
Los Angeles, California, USA
Las Vegas, Nevada, USA
Equinix connections available in:
DC1-DC8, DC10, DC11 (Ashburn, Virginia)
CH1-CH4 (Chicago, Illinois)
DA1-DA4, DA6 (Dallas, Texas)
Rackspace Data Center Locations Map
Here we have brought the map of Rackspace data center locations. This map locates the facilities and infrastructures such as data center, colocation region and RackConnect in various countries around the world.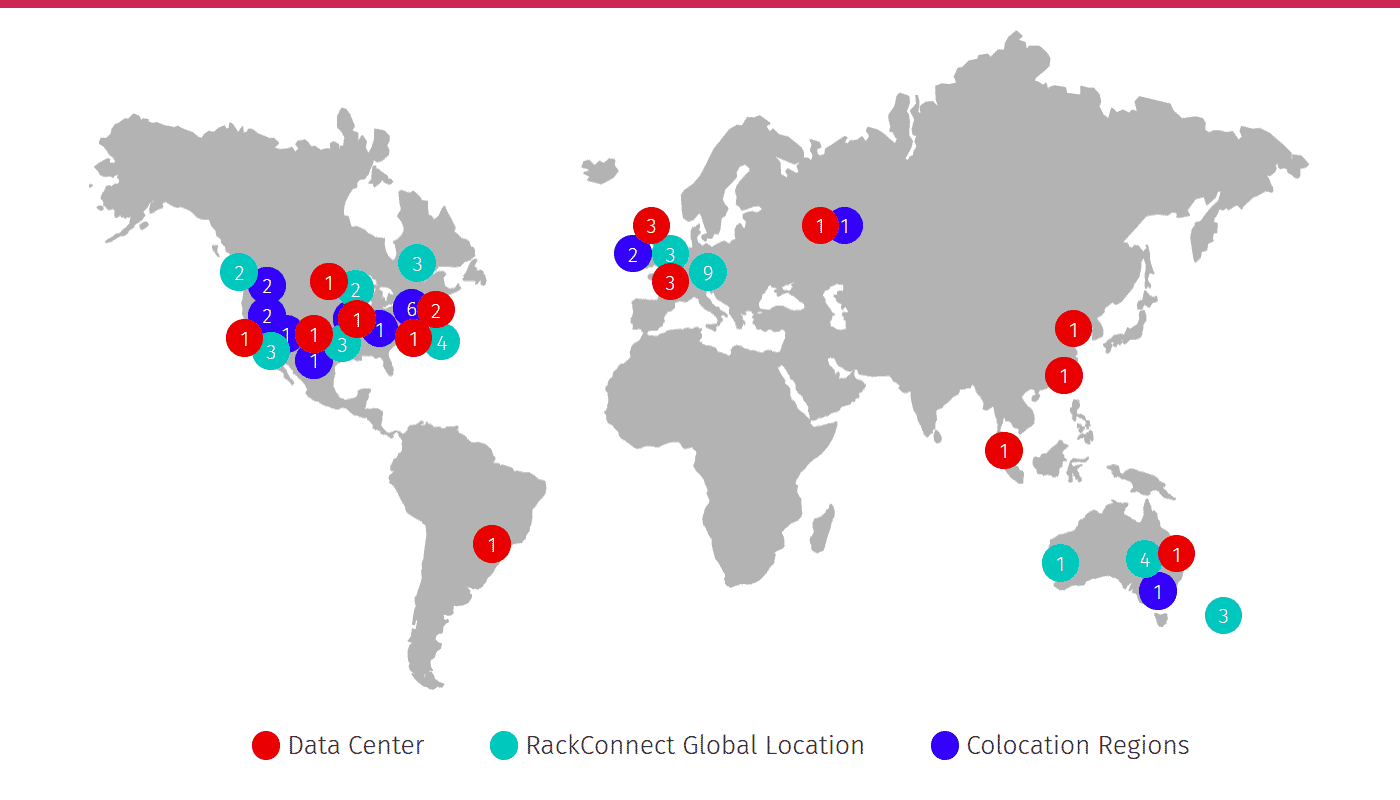 Disclaimer: These information were last updated on October 2020. Though we have done our best to collect the right information, we don't guarantee the accuracy of information provided here including Rackspace data center locations or map. Kindly contact Rackspace for detailed or accurate information on its infrastructure, colocations or networks.