Utah is a state near western side of USA. It is surrounded by other US states such as Colorado, Wyoming, Idaho, Arizona and Nevada. Utah is one of the most looked after location for data center infrastructures in USA. Companies such as Facebook has trusted this state to establish their data center. Salt Lake City, the capital of the state, host large number of such facilities.
Data Centers in Utah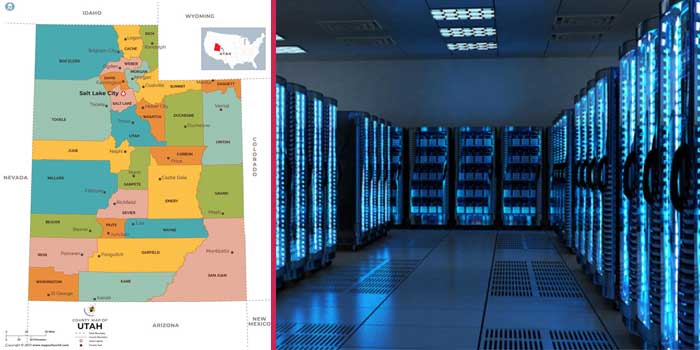 Below we have listed some of the companies with their data center in Utah. You may can contact these Utah data centers and choose the one that best fit your needs. The services provided by Utah data center may include cloud, colocation, web hosting, dedicated servers and other data services.
CenturyLink
CenturyLink sold most of its data center facilities to company called Cyxtera in around 2017. However, it does still operate to provide cloud and colocation services. CenturyLink continue to provide its services from Utah data center facility as well.
Address: 572 Delong St S, Salt Lake City, UT 84104, United States
Phone: +1 800-253-8353
DataBank Data Center
DataBank has three data centers in the area of Salt Lake City including their SL1, SLC2, SLC3, SLC4 and SLC5 facilities. They have 23+ network carriers in Utah giving you good connectivity. 170,000+ sq ft. and 67.5MW power source should be good enough to power your data need and scalability.
Address: 14944 Pony Express Rd, Bluffdale, UT 84065, United States
Phone: +1 801-822-5300
Facebook
Interestingly, Facebook has build one of its 13 USA data centers in Utah, which is located in Eagle Mountain. However, this facility is used for their own purpose and isn't available for colocation or cloud services.
Address: 1275 North Community Circle, Eagle Mountain, Utah (UT) 84005, United States
Flexential
Flexential is a data center company with large number of facilities in various locations including Utah. It has data center facility in six locations of Salt Lake City in Utah. These are listed below:
Salt Lake City – Cottonwood
Salt Lake City – Downtown
Salt Lake City – Fair Park
Salt Lake City – Lindon
Salt Lake City – Millcreek
Salt Lake City – South Valley
For more information, you can contact: +1 877-448-9378
Novva Data Center
Address: 12382 Gateway Park Place, Ste. B300 Draper, UT 84020
Phone: +1 888-668-8232
Add your Data Center in Utah
Do you own or represent a data center in Utah state of USA? If you want to list your company here, you can feel free to write to us. You can send us brief introduction of your company and data center facilities that you provide in Utah including colocation, cloud, storage, point of presence along with location and contact details.
Disclaimer: Though we have done our best to collect the right information, we don't guarantee the accuracy of information provided here including data centers in Utah with their locations or map. Kindly contact respective service providers for detailed or accurate information.