New York is a state in USA towards north-east corner. It is often confused with New York City (shortly referred as NYC). If we go back to the history, New York is one of the 13 original colonies of United States. While NYC is the most populous and well known city in New York, Albany is its capital. It shares border with Canada and part of iconic city of Niagara Falls. New York has area of over 141,000 square km and population of over 19 million as per 2019 estimation. Other major cities in the state includes Buffalo, Rochester, Syracuse, Binghamton and Utica. New York is one the highly developed state and host many of the data centers of companies from USA and outside.
Data Centers in New York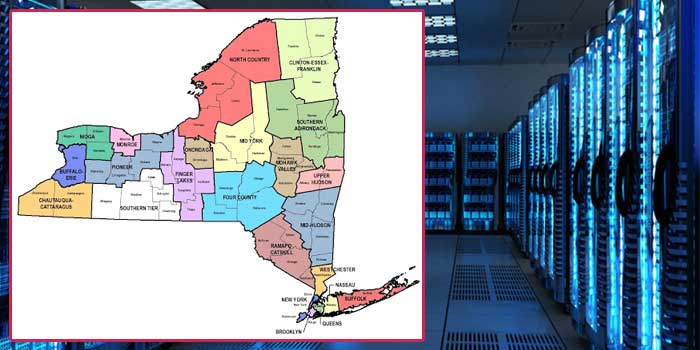 Here we have listed out some of the data center companies in state of New York. These New York based data centers are known to offer various services including colocation facilities, cloud computing services, hosting and other data related services. You can inquire about any of the New York data center listed here and choose the one that best fit your requirements.
365 Data Centers
365 Data Centers is one of the trusted USA based company. They provide wide range of solutions such as colocation, cloud services, managed services, network and IP services. New York based data center of 365 Data Centers has 8,200+ square foot of colocation space.
Digital Realty
Digital Realty has three data centers in state of New York with space of over 400,000 square foot. Digital Realty is renowned for their data center solutions, cloud services and network services.
Phone: +1 877 378 3282
DigitalOcean
There are three data centers of DigitalOcean in the state of New York. All of these data centers are located in NYC, named as NYC1, NYC2 and NYC3.
Equinix
Equinix has located 10 of its data centers in state of New York. This is the most number of facilities that Equinix has placed in a single region after Silicon Valley and Washington DC. Equinix data centers in New York includes: NY1, NY2, NY4, NY5, NY6, NY7, NY8, NY9, NY11 and NY13.
Phone: +1 866-378-4649
INOC
INOC operates two of the data centers in New York state. Both of these infrastructures are located in Albany city. One is in the main downtown region while another is in the outskirt of main city in uptown region. INOC providers data center services such as colocation, cloud, ISP solutions and disaster recovery solutions.
Address 1: 4 Tower Place Uptown Albany, NY
Address 2: 80 State Street Downtown Albany, NY
Phone: +1 518-689-4350
TurnKey Internet
TurnKey has build its data center in Latham at Albany county of New York State. Their data center in Latham is suitable for all kind of businesses be it small or large. They provide basic web hosting services to dedicated servers and colocation. They have 11,200 square foot of space with 42U cabinets, private cages and rooms. They are equipped with 5 independent UPS system and power backup along with solar power.
Address: 175 Old Loudon Road Latham, NY 12110
Phone: +1 877-539-4638
Add your Data Center in New York
Do you own or represent a data center in New York state of USA? If you want to list your company here, you can feel free to write to us. You can send us brief introduction of your company and data center facilities that you provide in New York including colocation, cloud, storage, point of presence along with location and contact details.
Disclaimer: Though we have done our best to collect the right information, we don't guarantee the accuracy of information provided here including data centers in New York with their locations or map. Kindly contact respective service providers for detailed or accurate information.