Michigan is a state in north-east part of USA and comprises Great Lake. It is bordered by states like Ohio, Indiana, and Wisconsin whereas shares water boundary with Illinois and Minnesota. It also shares border with Canadian state Ontario. Lansing is the capital of the state whereas Detroit is the largest city. Other major cities includes Grand Rapids, Ann Arbor, Flint, Kalamazoo, Traverse City, Saginaw and Southfield. Michigan has area of 250,493 km2 and estimated population of around 10 million in 2019. Besides lakes, Michigan is also known for being center of attraction for automobile industry. It is also one of the sought after region for data center locations. This may have to do with the fact that there is no sales and use taxes on data center equipment in the state.
Data Centers in Michigan
Here we have listed our some of the data center companies in Michigan state. You can inquire about these Michigan data centers regarding colocation, cloud or other hosting and data services. Based on your needs, you can choose the Michigan data center that best meet your requirement and budget.
123Net
123Net owns four different Tier-III Michigan data centers in locations near Detroit and Grand Rapids cities in Southfield and Bryon Center respectively. This facility is also Michigan's largest carrier hotel. 123Net Michigan data center facilities has combined space of over 100,000 square foot which is scalable. They come with N+1 power and cooling redundancy. Besides, power of upto 30kW is available per rack. Other features of 123Net data centers in Michigan includes fire protection system, disaster recovery and compliance certifications.
Addresses of 123Net data centers in Michigan:
DC1: 24700 Northwestern Hwy, Southfield, MI (Headquarter)
DC2: 24275 Northwestern Hwy, Southfield, MI
DC3: 24245 Northwestern Hwy, Southfield, MI
DC4: 400 76th Street SW Suite 12, Byron Center, MI
Phone: +1 888.440.0123 (call or text)
365 Data Centers
This company has its data center in Detroit city of Michigan state. 365 Data centers' Detroit facility comes with 8,618 square foot of colocation area.  You can also custom build your cabinets and cages. This Michigan data center of the company comes with N+1 power redundancy and cooling redundancy. It is secured with multi-layer access and 24/7/365 monitoring.
Phone: +1 866-365-6246
Switch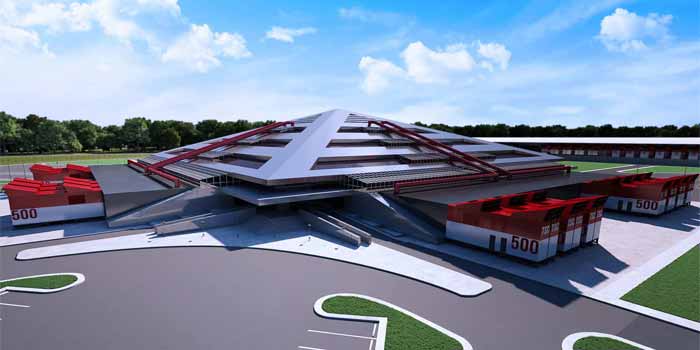 Switch has its iconic data center called as "The Pyramid Campus" located in Grand Rapids of Michigan state. This facility will have power utility of upto 143 MW upon completion. This Tier-V exascale facility will provide highest rated and most cost effective colocation environment. Good about Switch is that, clients will not require to pay business personal property tax. Switch's Michigan data center is located in tax-free Renaissance zone of the state.
Phone: +1-877-959-5038
Add your Data Center in Michigan
Do you own or represent a data center in Michigan state of USA? If you want to list your company here, you can feel free to write to us. You can send us brief introduction of your company and data center facilities that you provide in Michigan including colocation, cloud, storage, point of presence along with location and contact details.
Disclaimer: Though we have done our best to collect the right information, we don't guarantee the accuracy of information provided here including data centers in Michigan with their locations or map. Kindly contact respective service providers for detailed or accurate information.